New Construction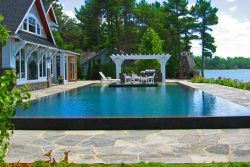 We offer pools of all shapes and sizes, concrete and vinyl liners, however, at Acme Pool Construction, we are well known for our in-ground custom designed pools and spas!
We specialize in building free-form custom designed pools and spas uniquely designed just for you! We build them to any size and any shape you choose, to fit in your landscape. Every pool is uniquely built to meet your desires and suit your lifestyle. From your choice of something simply beautiful to exquisitely designed,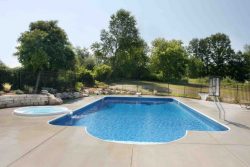 whatever style you choose, we want your pool to be the finest. Acme Pool Construction uses the finest materials, as you would expect, and top of the line quality equipment that is energy efficient. Our pools include a built in self-cleaning circulation system which keeps your pool clean and eliminates the need to vacuum on a regular basis.
We also offer many special features including but not limited to:
zero depth walk-ins
sun-shelfs
swim-outs
special steps
deck jets
shooting water
laminars
foam jets
swim jets
water-falls
fountains
hot-tubs
kiddie pools
vanishing edge
color changing lights
electronic controls
Zodiac Caretaker self-cleaning circulation system.
Auto-covers and many other options from which to choose, if you so desire.
So whether you desire a pool for relaxation, entertainment, health or family fun, let the experienced professionals at Acme Pool Construction, Inc. build the pool of your dreams.
Thank you for considering Acme Pool Construction to build your swimming pool. We would be grateful and appreciate the opportunity to work with you on your backyard project!  We value a good working relationship and we are committed to providing you with our very best! Whether you choose something simply beautiful or exquisitely designed, our goal is to do our best for you! So let us work with you to design or redesign the pool of your dreams!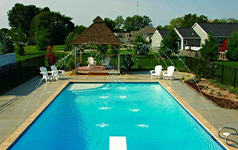 Speak With A Pro Now!
Call: (616) 677-7665