Renovation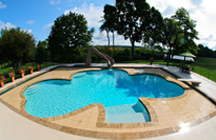 Acme Pool Construction is well known for renovating and modernizing pools in all of west Michigan! Many other pool companies refer to us for pool remodeling, since for many decades, it has become our specialty!
We can give outdated pools a fresh and new look!
We can recreate existing outdated pools
Change the entire design, Change the shape
Add a hot-tub or kiddie pool area
Remove and replace decks
Re-surface with Marcite, Quartz, Pebble
Re-paint those with a painted surface
Re-Tile, Re-cap, new coping
Re-line
New Liner
Before:                                                                        After:
We can re-create your existing pool into something new and beautiful. We can update your interior with new tile or a new interior finish and we can update the exterior.  We can install new decking or possibly give your old decking a face lift. We can even add a sun shelf, hot-tub or kiddie pool! We can make small pools bigger and big pools smaller or change the depth of the pool.
What is your exciting idea? We can change the whole look of your pool if that is your desire!
Thank you for considering Acme Pool Construction to remodel your swimming pool!
We value a good working relationship and we are committed to providing you with our very best! Whether you want to do something simple or more extreme, our goal is to do our best for you!  So, when you're ready, let us give your pool a face-lift or re-design the pool of your dreams!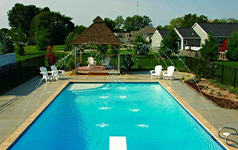 Speak With A Pro Now!
Call: (616) 677-7665